Tuesday, January 31, 2006 6:10 PM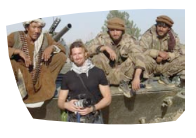 Kevin Sites, foreign correspondent for Yahoo News, has been chosen to receive the Los Angeles Press Club's 2006 Daniel Pearl Award for Courage and Integrity in Journalism.
The award will be presented at the 48th Annual Southern California Journalism Awards to be held June 24, 2006, at the Millennium Biltmore Hotel in Los Angeles. Sites, who has reported extensively from Iraq, marks the first time that the club has honored an online journalist with one of its most important awards.
In recommending Sites for the award, Daniel Pearl's parents, Ruth and Judea, said, "His style of work, the solitary commitment to truth, the selection of the newsworthy, the focus on the human faces, and the human fate – it all mirrors the works of Danny."
Upon learning he had been selected for the Pearl Award, Sites said, "As a journalist, few things are more gratifying than being recognized by your colleagues. They are the people who live this life, who best understand the sacrifices it requires, who sometimes endure the scorn but also know the rewards of telling stories that mean something. Daniel Pearl lived that life and paid the ultimate sacrifice for it. To be honored in his name will be a constant reminder to work to his
standards every day."
As Yahoo! News' first correspondent,
Sites' current assignment is to spend one year covering every armed conflict in the world. Traveling alone to the world's hotspots armed with portable digital technology, he
shoots, writes and edits his stories for "Kevin Sites in the Hot Zone" for Yahoo.
In 2003 while covering the initial invasion of Iraq for CNN, he was captured and briefly held by Saddam Hussein's militia. He previously reported from Afghanistan, before and after the fall of the Taliban, and shot some of the earliest video of ground combat there.
Past Pearl Award recipients include the late Michael Kellyof the Atlantic Monthly, Time Magazine journalists Michael Weisskopf and James Nachtwey, and Mexican investigative journalist/editor Jesus Blancornelas.