Monday, October 24, 2011 5:19 PM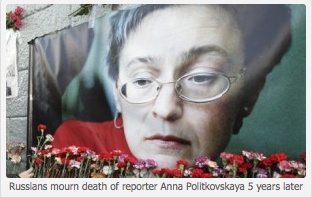 "A Bitter Taste of Freedom" a film by Marina Goldovskaya.
It is a documentary about slain Russian reporter Anna Politkovskaya. While it is a personal and touching portrayal of Anna Politovskaya as a troubled wife and loving mother, it also shows the lengths that she, as a journalist, would go in the search for truth. She was investigating breach of human rights in Chetznya. This documentary was co-winner of the Montreal Festival.
Variety: "Profoundly moving, politically provocative and apt to provoke moral outrage in anyone short of Vladimir Putin." Following the free screening, Ms. Goldovskaya will address the audience in a Q & A.
The Los Angeles Press Club posthumously awarded Ms. Politkovskaya the Daniel Pearl Award for Courage and Integrity in Journalism in 2007.