Monday, June 25, 2012 9:22 AM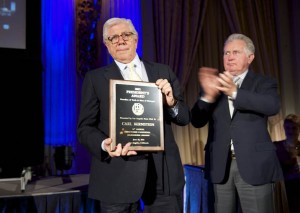 Winners_Socal_2012
At the June 24 LA Press Club Journalism Awards at the Biltmore, nearly 500 journalists and media executives heard Carl Bernstein address the importance of Watergate and the extensive criminal activity encouraged and authorized by President Nixon, as revealed by the hundreds of White House tapes that Nixon had failed to suppress.
Bob Woodward watched and participated through a Skype video hookup that allowed the audience to watch and hear him while he watched the award ceremony back east. Woodward couldn't make the trip because he was on deadline for his next book that's about Obama.
Bernstein talked about how Nixon had wanted to get at Daniel Ellsberg who had leaked the Pentagon Papers to the NY Times and the Washington Post. Nixon referred to Ellsberg as one of those "arrogant Jews." But as Bernstein found out by talking to Ellsberg's granddaughter who was seated at his table, Ellsberg was not Jewish. He was a Christian Scientist. "My Watergate reporting continues," he quipped.
Bernstein and Woodward were presented the President's Award by Martin Sheen who played President Bartlet on TV for seven years. He was assisted by actress Pauley Paulette.
As for the SoCal Journalism AwardsundefinedThe Hollywood Reporter had two of their writers Win "Journalist of the Year." Kim Masters for large circulation papers and Alex Ben Bloch for Entertainment Journalist of the Year. Larry Mantle is Radio Journalist of the Year; Chris Hedges from Truthdig is Online Journalists of the Year and Chuck Henry and Tara Wallis Finestone won TV Journalist of the Year. Public radio news powerhouse KPCC took six of the ten radio categories.