When
Thursday, February 26, 2015
7:00 PM
Location
Los Angeles Press Club @ Steve Allen Theater 4773 Hollywood Blvd. Los Angeles, CA 9002
Registration
Member Ticket – $5.00
Non-Member Tickets – $20.00
Volunteer [Registration code required]
Registration is closed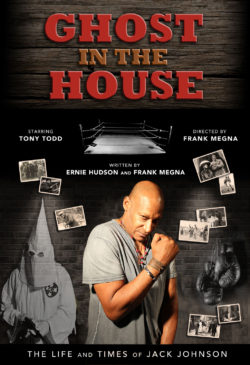 The New, Multimedia One-Man Show, Ghost in the House, starring Tony Todd (Candyman) to be followed by a conversation about race in America, moderator: Brian Watt.
Before Barack Obama and MLK, before Jackie Robinson, Paul Robeson and Medgar Evers, before Malcolm X and Muhammad Ali, before Ferguson and "I can't breathe"– there was Jack Johnson, the first African-American Heavyweight Boxing Champion who defied the powers that be.
Ghost in the House recounts the racism and vindictiveness of White America against a man whose talents went way beyond the ring. Johnson was a musician, raconteur, entertainer, horse jockey, bullfighter, inventor, race car driver and secret agent during World War I. He was an infamous Lothario who flaunted his flashy lifestyle in the face of contemporary mores. Jack Johnson was the catalyst for celebrations, condemnations, deadly riots and outrage from all sides of the racial divide. He was also the most famous Black man in the worldundefinedand one of the most misunderstood.
Tony Todd (well known from the Candyman films) stars in Ghost in the House written by Ernie Hudson and Frank Megna and directed by Megna. The show will be offered to both amateur and professional theater organizations as a packaged, multimedia production. During its initial run, cultural and educational institutions will be given priority with a New York production as the ultimate goal.
This special performance is part of Los Angeles Press Club's Black History Month celebration.