Saturday, August 17, 2002 9:25 PM
If you have ever been bowled over by the stars of TV, radio and print, now is your opportunity to bowl with or against many of your favorite media personalities. Charity-minded bowlers over 18 years of age are invited to join in the First Annual L.A. Press Club All Media Bowl-A-Thon for the City of Hope Cancer Center on Wednesday, August 14 in Studio City.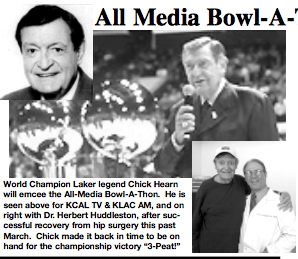 Among the media stars who will help put some fun and sport into the summer, while raising money for a good cause, are L.A. Press Club President, L.A. Times columnist and KCET host Patt Morrison; STAR 98.7's
Lara Scott & Lisa Foxx, KRLA's Hugh
Hewitt, KCBS-TV's Mark Coogan, Channel 13's Phil Shuman and KABC-TV's Dave Kunz, and KLOS's Geno Michellini.
Other top media personalities attending include KABC-AM's Gloria Allred, KNX's Dave Zorn, KXLA's Tonya Compos, legal commentator Royal Oakes, Arrow 93's Joe Benson; KZLA's Shawn Parr; radio and TV commentator Jeff Levy; WAVE 94.7's Talaya Trigueros and former KABC-TV and KNBC-TV's Ana Garcia. Chick Hearn voice of the world champion Los Angeles Lakers will be the M.C. for the evening.
"Hey, we've all been called the gutter press often enough," says Patt Morrison. "It's time we showed Los Angeles that the only 'gutter' words that fit us are gutter balls, and we will send those Brunswicks spinning down the lanes for a good cause."
These high profile media professionals will be on teams that bowl two games each, for the highest total score. The teams and individual stars compete for prizes and honors, in a fun atmos- phere and friendly competition among some of the best-known names in print, radio and TV. There will be a buffet supper, surprise celebrity guests, a silent auction and much more.
While most slots are filled, major media may still enter a team. In addition, at least one position on each team will be made available to the public. Potential bowlers must bid in an online auction for a spot on the same team as their favorite media star. The bidding action is taking place on eBay (Key word – City of Hope). Bowlers will also be asked to provide information for a security check before participating.