Friday, April 16, 2004 2:16 PM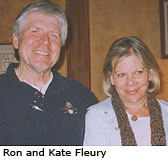 Kate Fleury, one of the most energetic volunteers of Los Angeles Press Club, has been taken from us in an accident.
Kate showed up at the press club a little over a year ago, offering to help.
Since then she has been recruiting new members, getting things for our gift bags and silent auction — always finding a way to promote the press club.
On the day she died, May 5th, two of her contributions for this years Awards Dinner came through – a gift card of $1,500 from SportsClub LA for the silent auction and family tickets to the Japanese American National Museum for the gift bags.
Some of you might remember her joyful leap when her husband, Ron Fleury of NBC, won an award for best breaking news story last year. He is, once again, up for an award in the same category. Kate had already invited family and friends to the event, which will not be the same without her.
Her loss will be felt by all of us.
Services to be held at Mount Sinai Memorial Park, 5950 Forest Lawn Drive in Los Angeles, Monday May 10th at 11 a.m. — followed by a reception at Sportsman's Lodge on 12833 Ventura Blvd.(at Coldwater Canyon) in Studio City, 1:30 p.m. to 4 p.m.