Monday, November 19, 2012 6:47 PM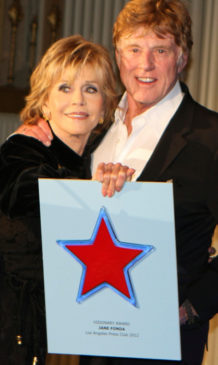 More Pictures from 5thNEJ
In an appropriately glamour-filled evening, the Los Angeles Press Club handed out first-place star trophies for best arts and entertainment reporting during its 5th Annual National Entertainment Journalism Awards (NEJ) Gala Sunday at the historic Millennium Biltmore in downtown L.A.
The big winner was The Hollywood Reporter. THR garnered six first place awards, including Entertainment Journalist of the Year for editor and reporter Kim Masters, whom they share with KCRW 89.9, Santa Monica.
The real story of the evening was the diversity of the top winners, with more than 15 news organizations represented from New York, Seattle, Houston, Santa Ana and Los Angeles. Contest entries came from some 45 news organizations.
Actress and activist Jane Fonda received the Club's inaugural Visionary Award "for her tireless efforts to use her celebrity to improve the lives of others." She was introduced by her friend and colleague Robert Redford and then submitted herself to a rare onstage candid interview with NBC LA anchor reporter Robert Kovacik. Jeff Daniels composed and sang a song in Fonda's honor.
The Hollywood Reporter's Editorial Director Janice Min accepted the Press Club's Luminary Award for career achievement "for proving that a well-written, imaginatively designed print publication can have a life of its own inside and outside the industry." Min was introduced by comedian and actress Kathy Griffin.