Wednesday, March 30, 2016 12:39 PM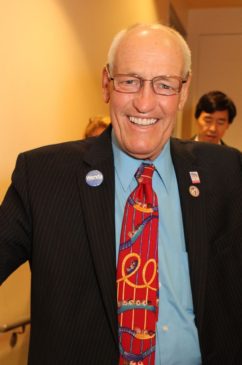 The visionary former L.A. City Council member who fought for the underdog was also an educator, host of public affairs TV shows and a driving force in the revitalization of the Los Angeles Press Club.
By Alex Ben Block
Bill Rosendahl, a Progressive political leader, L.A.'s first openly gay City Council Member, an educator, Vietnam veteran and award-winning host of thousands of public affairs programs – whose vision revitalized the Los Angeles Press Club at the turn of the 21st century – passed away of complications from cancer early this morning, March 30th, 2016. at age 70.
Tall, occasionally loud and often opinionated, Rosendahl served as a L.A. City Councilman from 2005 until 2013, resigning after he was diagnosed with cancer. He represented Council District 11, a vast area that includes Venice and west of there to the Pacific Ocean.
Some called Rosendahl the "disruptor-in-chief," because he would not just accept the status quo. Throughout his time on the Council, and in his life, Rosendahl as a champion of the poor, those who depend on public transport and those who are unrepresented, including the homeless. He was an advocate for renters rights, public transportation, paying workers a living wage and stopping expansion of LAX, helping broker a landmark dead with airport neighbors.
An openly gay man, he had two long-term relationships. His partner of 14-years, Christopher Lee Blauman, died in 1995 of AIDS after a long illness. For the last 20 years, his partner has been Hedi el Kholti, who works in publishing.
Rosendahl's home in Mar Vista was often filled with people "Bill," as everyone called him, befriended in the neighborhood, those who needed an assist, some who were homeless and others.
In a June 2013 profile, the Los Angeles Times described him: "Rosendahl holds court from a soft recliner in the living room, the ocean breeze blowing on his shoeless feet, a skinny black cat rubbing against his knees. At 68-years-old, he is a bundle of contrasts. He loves politics, which can be transactional, but also Buddha's message of transcendence. He represents some of the city's richest residents, and is friends with many of them, yet he remains firmly anti-materialistic. 'I believe we're just passing through,' he says. "By the time you die you should have nothing left.'"
His life was vividly described in that same article by Kate Linthicum in the L.A. Times: "One friend affectionately describes his Mar Vista home as a commune. Another calls it a three-ring circus. Throughout the day, people stream in: caretakers, constituents, a Reiki healer. Rabbits rustle in the yard. Incense smokes. A phone rings and rings. An indoor flock of finches sings."
In his final years he was a strong advocate for legalizing medical marijuana, admitting he used it to treat his own health problems.
He had been the first openly gay person elected to the council. Two other members previously elected, Jackie Goldberg and Joel Wachs, only came out after winning the office.
Wachs came out on one of Rosendahl's 3,000 cable TV news and public affairs shows , which were shown on Southern California cable TV, and often nationally on CSPAN.
He personally produced, wrote and hosted for over 16 years before running for office. Rosendahl always encouraged a healthy dialogue that encompassed all points of view, even with those of an opposing point of view from his own.
Rosendahl had first come out as gay in the 1970s at age 32 shortly after the death of his mother and long before it was fashionable. It was just before the AIDS pandemic hit.
Why? "Honesty and integrity," Rosendahl told the L.A. Daily News in June 2013 upon his retirement. "I don't care if it's on sexual orientation or if it's on projects you're involved in, or policy you're making, or laws you're going to enact, you have to come from that perspective to put it all out there."
He wasn't trained to be a journalist but years on TV asking tough questions of elected officials, business people and celebrity journalists, made him one.
As he got deeper into journalism and media in the late 1990s, Rosendahl didn't like what he saw. Media companies were being consolidated into very large conglomerates and he saw that the voice of the ethical individual journalist was being drowned out in the quest by corporations for ever-greater profits.
One way Rosendahl felt he could help counter that trend and give journalists a voice was his involvement in the L.A. Press Club. Although it had been around for decades, the club had lost its purpose and mission in recent years and had been taken over by corporate and public relations interests. The club had also lost its non-profit status and was running a deficit.
Rosendahl was elected President of the club in 1999, adding to his many other duties which included being as a vice president of Adelphia Cable (predecessor to Time Warner serving much of L.A.) – where he produced and moderated such shows as Week In Review and Beyond The Beltway – and he was teaching as a Distinguished Professor at California State University Dominguez Hills.
Rosendahl moved quickly to recruit new LAPC members, many of whom were top journalists and media movers and shakers. They included Patt Morrison of the L.A. Times, Ted Johnson of Variety, Chris Woodyard of USA Today, Mary Moore of the Daily Breeze, Jim Foy of NBC4, Barbara Osborne of KPFK and others, myself among them.
Rosendahl in a 2013 L.A. Press Club profile for a tribute event said he wanted to "encourage journalists to be journalists, to give them an environment where they are supported as journalists and to give them the opportunity to survive within a world dominated by corporate interest and publicist's interests. That is critical to keeping a democracy going. That's my passion and my pursuit. When I was asked to take it over, that was my commitment. To put it back on its feet financially and journalistically. And to empower people who were good journalists to take this leadership after me."
Rosendahl also worked to make the press club membership more diversified, adding more women, all races and sexual minorities.
One of those Rosendahl brought in was Karen Ocamb, an openly gay journalist who is now news editor of Frontiers.
"I met Bill Rosendahl in the course of covering events as a freelance reporter for the gay community," says Ocamb. "He seemed to be everywhere and liked by everybody. He was also the top executive and host of several significant talks shows on Century Cable and he often invited me to be a panelist. I wound up doing Bill's official 'coming out' story, which seemed to kick-start his Robert F. Kennedy/social justice conscience into an even higher gear. He became an ardent advocacy-journalist, while also being fair to most of those with whom he had profound political and philosophical disagreements."
Rosendahl described what he set out to do in a 2013 interview:
"I truly was on a mission with the Press Club to bring in journalists because to be able to do journalistic work is key in America and that's why I had such a passion and did my shows. I didn't get paid for those shows. It was my commitment to the community."
"I saw the opportunity to turn it into a Club where journalists could work with each other, learn from each other, gain strength from each other, empower themselves from each other, because unfortunately in this moment in time and going forward, dating back to the 1980s, there's no more legitimate television news. It's all 'if it bleeds, it leads.'"
"Our job was to take it out of the hands of the publicists and the corporations and put it in the hands of the journalist," he continued, "who needed the interaction and common strength to do a good job, especially now more than ever considering the respect for true journalism is not there anymore."
Ocamb says Rosendahl looked at the L.A. Press Club and "decided to shake up the moribund old boys club, which was living off imagined whiffs of stale cigar smoke from the black and white 1950s. He brought in a number of younger journalists, some of whom – like me – were considered suspect because we were not in the mainstream. We added color and controversy and enthusiasm. He appointed me to the board where I challenged the Press Club to add sexual orientation to their non-discrimination bylaws. The discussion got raucous since real journalists didn't disclose such private information in the first place. Bill loved it. He was the progressive disruptor-in-chief who got results! His two-thumbs-up boisterous bravado saved the LA Press Club from sliding into bland oblivion. And he gave journalists like me a place to call home."
Rosendahl's birth home was Englewood, New Jersey, and he never lost the broad Jersey accent.
William Joseph "Bill" Rosendahl was one of eight children raised by German Catholic immigrants who had left Europe as Hitler rose to power. Rosendahl went to Catholic schools and earned a bachelor's degree from Benedictine College (near Pittsburgh). Although he was to draw on many religions, including Judaism and Buddhism, Rosendahl always said the Catholic emphasis on love and charity was his bedrock.
As a student, Rosendahl became active in 1960's politics and involved in the civil rights movement. While in grad school earning a Master of Social Work from the University of Pittsburgh, Rosendahl took a leave of absence to help bring together student volunteers for the 1968 presidential campaign of Robert F. Kennedy. He was at the Ambassador Hotel on the night Kennedy was assassinated. Years later he helped turn the site of the hotel into a public school complex with a new high school named after Robert Kennedy.
From 1969 until 1971, Rosendahl served in the U.S. Army, much of it as a psychiatric social worker who counseled soldier returning from combat. He won national recognition for reorganizing the base mental health services and boosting morale.
After the Army, Rosendahl spent six months working for John D. Rockefeller, administering the family's endowments. However, with his opposition to the Vietnam War, he left to join the anti-war presidential campaign of Eugene McCarthy and in 1972 of Democratic nominee George McGovern. He was credited with a major role in fund-raising. He later managed Sen. Howard M. Metzenbaum's (D-Ohio) campaign,
In 1979, President Jimmy Carter made Rosendahl, a lifelong Democrat, his chief of operations in the trade and development program. After Carter lost to Ronald Reagan in 1980, Rosendahl moved to Los Angeles and entered broadcasting. Before signing on with Century Cable, Rosendahl worked for Westinghouse Broadcasting Company.
As an executive with Adelphia, then one of the largest U.S. cable TV companies, Rosendahl was a strong advocate of providing better customer service and more local programming. He also sought better wages and working conditions for his employees.
His public affairs television programming is now in an archive at Loyola Marymount college, drawing on programs done for Century Communications and Adelphia Communications in L.A. between 1987 and 2006.
A 1993 L.A. Times article described his unusual power in that period of his life, as both corporate officer and budding journalist: "In addition to his moderating duties, Rosendahl serves as Century Southwest's chief operating officer and as vice president of corporate affairs for the system's parent company, Century Communications Corp., positions that lend him an unusual degree of authority and independence in shaping his public-affairs telecasts. Unhampered by the bottom-line-driven corporate mentality that has reduced political coverage at the local network-owned stations to a trickle, Rosendahl has been able to assemble a strikingly diverse range of programming.'
That same 1993 article included a quote about his approach as a journalist: "I'm not trying to entertain you, and I'm not trying to fill your void with something you can just sit and watch as a couch potato. I'm providing you an opportunity to look at the world around you and decide if you want to get involved or not."
Links to articles about Bill over the years:
http://tinyurl.com/hr5ogjy
https://www.frontiersmedia.com/channel-special-reports/2013/07/08/the-bill-rosendahl-i-know-2/
https://www.frontiersmedia.com/frontiers-blog/2015/08/21/rosendahl-to-be-honored-as-hero-by-stonewall-young-democrats-on-saturday/
http://www.laobserved.com/intell/2016/02/honoring_journalists_dishonori.php