Friday, June 08, 2012 9:28 AM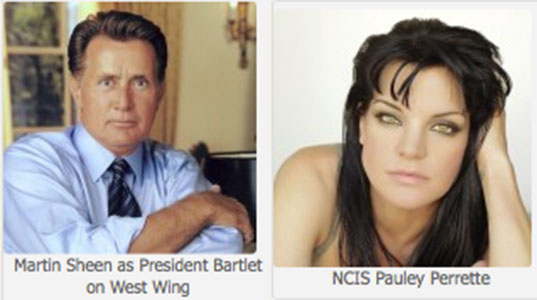 When Carl Bernstein and Bob Woodward receive the Los Angeles Press Club's President's Award on the 40thanniversary of Watergate at the Biltmore, the trophy will be presented by the most popular actress on TV and the man who played the president for seven years on national television.
Martin Sheen as President Bartlet on West Wing
Pauley Perrette, star of NCIS, and Martin Sheen, actor and political activist, join a roster of noted actors and media personalities who will announce the winners of the 54th Annual Southern California Journalism Awards on Sunday, June 24, before a capacity banquet audience in the legendary Crystal Ballroom where the Oscars where originally conceived.
NCIS Pauley Perrette
Other actors and news anchors who will present the awards for the Southland's best journalism of 2011 across all news platforms are: Patt Morrison, Dan Lauria, Jodi Long, Pat Harvey, Ron Perlman and Robert Kovacik. Returning as emcee for a third straight year is Jack Maxwell.
Winners will have been chosen by press clubs across the nation from a record 750 entries in one of the oldest and largest journalism competitionsundefinednot just in Southern California, but the nation as well.