Saturday, April 17, 2004 4:41 PM
BY BOB BAKER
TIME Magazine investigative reporter/ senior correspondent Michael Weisskopf, who lost his right hand in Iraq last December when he threw a live grenade out of a Humvee in Baghdad, will be one of two recipients of the Press Club's annual Daniel Pearl Award for courage and integrity in journalism. Weisskopf, who is back at work with TIME after seven operations, will be honored at the Press Club's June 12 awards banquet at the St. Regis Hotel in Century City.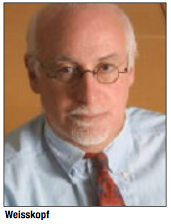 "It's a great honor to be recognized in the same breath as Daniel Pearl, who was a fine reporter and sacrificed a great deal in pursuit of truth," Weisskopf told the 8 Ball.
The Pearl award was created by the Press Club with the cooperation of the parents of Pearl, the 38-year-old Wall Street Journal reporter who was covering the war on terrorism when he was kid- napped and murdered in Pakistan. Pearl was posthumously honored with the first award in 2002.
Last year 's award was also presented posthumously, honoring Michael Kelly, the former editor of the Atlantic Monthly, who was covering the war for the maga- zine and the Washington Post when his military vehicle rolled over into a canal while evading enemy fire.
Weisskopf and a TIME photographer, Jim Nachtwey, were embedded with a platoon from the 1st Armored Division in Baghdad when an unknown attacker threw a grenade into their vehicle.
Weisskopf grabbed it and was throwing it out of the vehicle when it exploded. His reaction was credited with saving two journalists and four soldiers, all of whom were wounded by shrapnel. Weisskopf said he underwent three operations in Baghdad, two in Germany and two at Walter Reed military hospital.
(Nachtwey, a seasoned photojournalist who has faced harrowing experi- ences covering tough sto- ries in many nations, is this year's co-recipient of the Pearl Award. 8 Ball will profile Nachtwey in May.)
"I'm back at work," said Weisskopf, who is right handed. "I'm adjusting to work with a prosthesis on my right arm." Asked about the physical and
emotional difficulties of readjusting, and whether he replays his choice to throw back the grenade, he
demurs: "I don't want to get into that." Weisskopf, formerly with the Washington Post, was a Pulitzer Prize finalist in 1996 in the national-reporting category for Post stories that he and colleague David Maraniss wrote on the Republican Party's first year in control of the House of Representatives.
Weisskopf had been on assignment in Iraq in April and May of 2003, after the fall of Saddam Hussein's government. He returned in late November, three weeks before grenade incident.
Three members of the platoon that Weisskopf was imbedded with, the 1st Armored's "Tomb Raider Platoon," were chosen for the cover of TIME's "Person of the Year" issue honoring the American soldier. One of the three, medic Billie Grimes, applied a tourniquet to Weisskopf 's injured arm after the explosion.