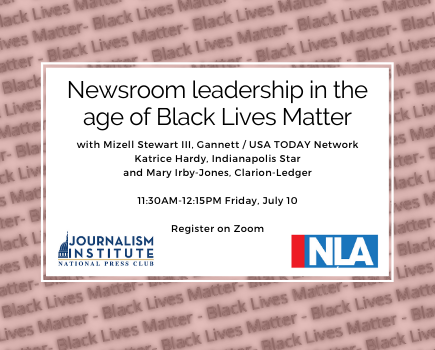 The coronavirus pandemic, economic struggles, and demands for racial justice are forcing newsrooms to account for their own failures at diversity, inclusion and representative coverage. Those shortcomings have led to resignations of top leaders at The New York Times, Philadelphia Inquirer, and many other publications.
The News Leaders Association and the National Press Club Journalism Institute will host regional newspaper editors in a discussion about these issues from 11:30 a.m. – 12:15 p.m. ET on Friday, July 10. Register online.
The conversation, moderated by Gannett executive Mizell Stewart III, will feature executive editors Katrice Hardy of the Indianapolis Star and Mary Irby-Jones of The (Jackson) Clarion-Ledger explaining how they are leading their newsrooms when issues of race and class are at the forefront.
Topics will include:
Setting the emotional tone for the newsroom
Self-care for top editors
Counseling team members on their use of social media
How the emphasis on digital subscriptions affects their approach to historically underserved audiences.
Stewart is an award-winning reporter, top newsroom editor, radio and television broadcaster and corporate news executive. He is currently senior director of talent, partnerships and news strategy for Gannett and the USA TODAY Network. He is also an adjunct faculty member at the Poynter Institute for Media Studies and the founder of Emerging Leaders, LLC, a leadership development consulting firm focused on mid-career professionals.
Hardy is the executive editor of the Indianapolis Star and editor of Gannett's Midwest region. She oversees more than two dozen Gannett newsrooms throughout Indiana, Illinois and Kentucky.
Irby-Jones is the top editor of two Mississippi newspapers, The Clarion-Ledger in Jackson and the Hattiesburg American. During her career, Irby-Jones has led strong local news and investigative coverage for daily newspapers as well as award-winning business and state government teams.
This discussion is part of a series of programs hosted by the Institute. Upcoming events:
Recordings and recaps of previous programs are available:
Contact Journalism Institute Executive Director Julie Moos with questions.